bEarn.fi's own AMM Dex on Binance Smart Chain
Tired with high slippage and price impact?
We are super thrilled to introduce our latest flagship product: bDEX — a quicker/smoother Decentralized Exchange which allows users to experience the next level of innovative solution in DeFi.
bDEX is an automated market maker (Decentralized Exchange) that uses smart routing to provide its users with the best exchange rate, slippage, and smallest price impact on the market. bDEX has the ability to launch pools, and swap most tokens on #BSC with lower liquidity by
'borrowing'
liquidity from other DEXes such as 1inch, SushiSwap, and PancakeSwap which allows its users to
find the most efficient swapping routes
across all platforms.
Allowing users to swap assets

Connecting with other exchanges and using their liquidities

Providing liquidity to a pool in exchange for preferential swap fees

Farming bDEX native token: $BDEX

Referral system:

0.1% incentive from invitees' trading fee will be distributed to inviter

Chart/candles for better trading strategies (

to be added 7 days after launch

)

Order book & Margin trading: To be developed
bDEX Trading fee and Fee distribution
bDEX applies a 0.20% trading fee (lowest in the market) to all trades with details as follows:
Reserve fund will be distributed weekly:
20% to buyback and burn $BDEX

20% to participating project owners

who add/provide liquidity at bDEX

(if not owned by any projects, these funds will sent to bEarn eco profit)
Private release for bPower Loyalty members:

Sat 8 May 2021, 14:00 GMT+0

Public release:

Sun 9 May 2021, 00:00 GMT+0
Participate in bDEX governance (ie: trading fee, treasury fund allocation, bLaunch project voting, etc…)

Stake to earn from bDEX profit;

And lock to boost rewards from liquidity provided
Chain: Binance Smart Chain (BEP-20)

Total supply: 100,000 $BDEX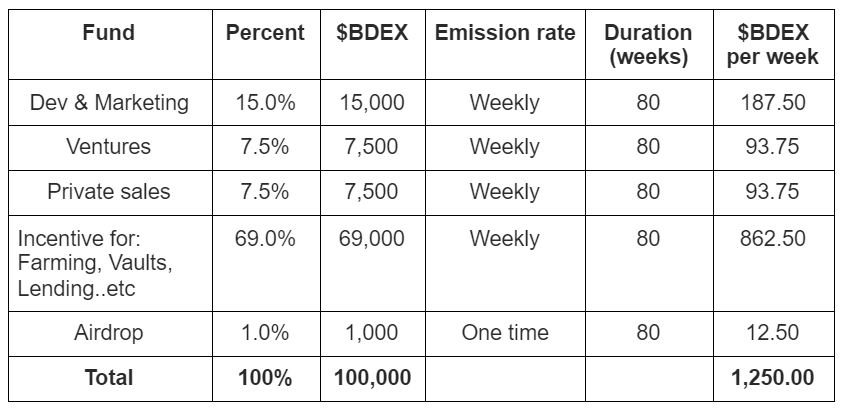 Initial reward per block: 0.069 $BDEX/block
Distribution period: 80 weeks

During the first 90 days (~12 weeks), farmers will receive 25% reward in $BDEX + 75% reward in xBDEX as receipt, and 75% $BDEX will be unlocked and vested linearly in the next 12 weeks (from day 91 to day 180) by redeeming xBDEX

From week 25 (day 181 — no lock-up) farmers will receive 100% reward
Since $BDEX is a deflationary token, there will be a small fee for every $BDEX transaction:
0.03% distributes to $BDEX

#hodlers

,

0.01% to add liquidity automatically,

0.01% will be burnt from the circulating supply forever which, will help to reduce $BDEX supply and make it more scarce
Initial liquidity pools (LP) to farm $BDEX
bPower — Loyalty members will be allowed to farm $BDEX 30 minutes before public

Minimum bPower index required: 10

Time: Sun 9 May 2021, 14:00 GMT+0
BDO V2.0/BUSD (More information to be provided)
Weekly halving rate: 2.5% — this means that $BDEX emission rate will be reduced 2.5% every 7 days (~201,600 blocks)
More details to be provided within the next 7 days